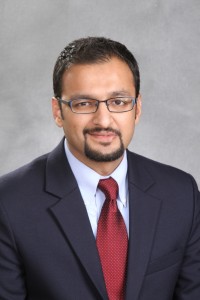 Dr. Abbas Rampurwala, usually called 'Dr R' by his patients, is an interventional cardiologist and peripheral vascular specialist. He is board certified in internal medicine, cardiology, interventional cardiology, echocardiography and vascular interpretation. But that alone is not what you should be looking for in your physician. Equally important is that your doctor spends time to explain your diagnosis, your options and the reasoning behind his recommendations for you. Though knowledge and application of evidence-based medicine is important, treating patients with empathy and compassion is even more important.
Dr R believes understanding his patients' concern is as important as treating their disease. His goal is to prevent or reduce cardio-vascular disease, but if needed, he is highly trained and skilled to perform the interventional procedures his patients may need.
Dr R picks up the phone to keep your family physician informed of your cardiac and vascular health. He believes better communication between physicians provides better care for his patients while avoiding complications and saving the health system a few extra dollars.
Doctor ratings and doctor reviews online may not capture all these attributes but may help you find a doctor who may have some of these qualities. Your family physician, your nurse, or your relatives and friends may be able to recommend a cardiologist to you as well.